Reasons to join BSL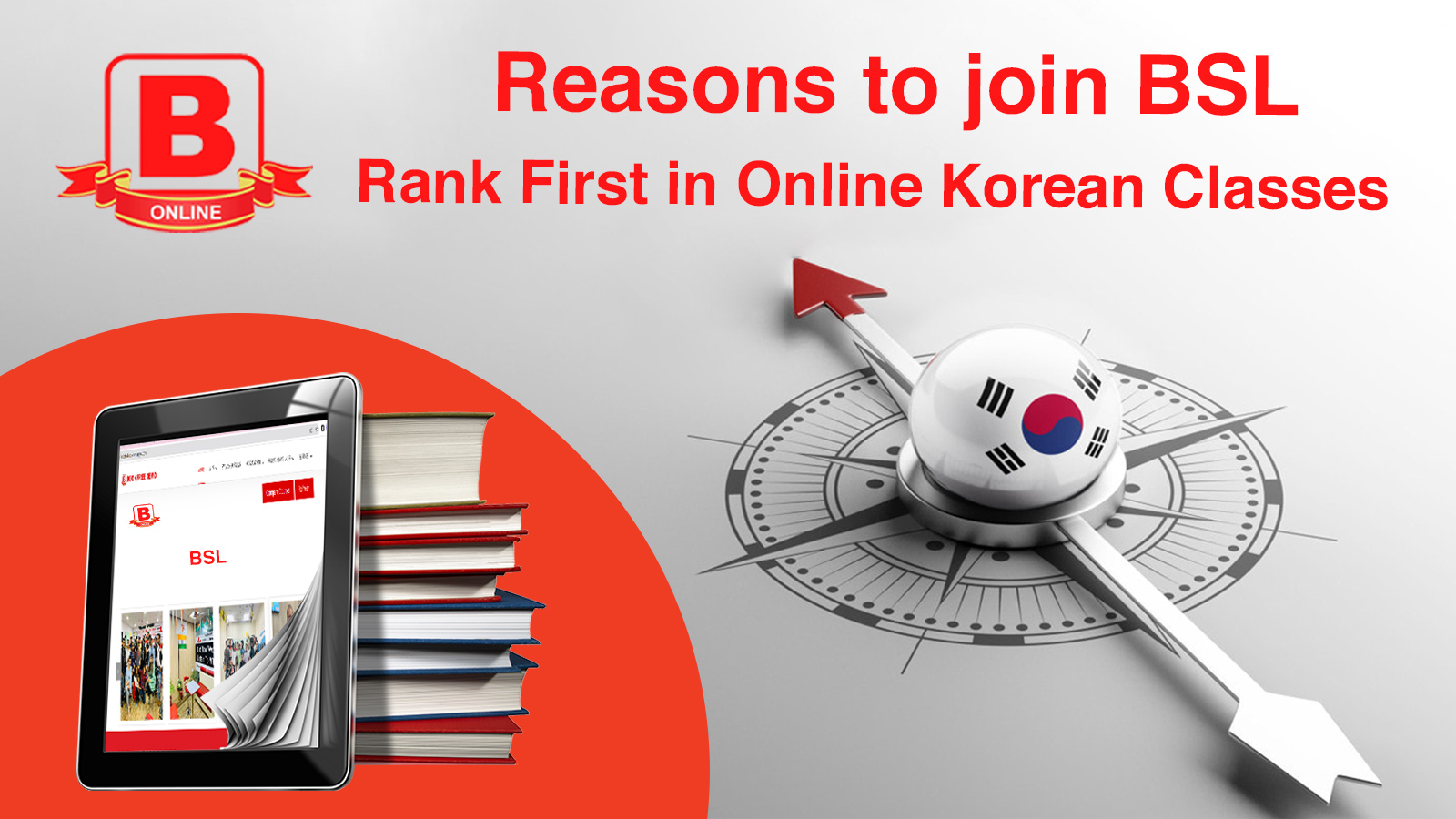 Rank First in online Korean classes
When it comes to the best online Korean classes there is only one name that could be trusted is British school of language. As we at BSL provide quality training in the Korean language.
Free certification course
Learning a language can be fruitful only when you are certified for that, we at BSL provide certificates on the completion of each level which could be used as language proof for availing opportunities too.
Learn Korean from the basics
Learning language from the beginning and making candidates reach advanced levels is our primary objective.
Flexibility
We do provide flexibility in batch timings and apart from weekday classes, we offer classes on weekends too to keep it flexible for working professionals and students.
Affordable fee structure
Apart from providing the best course we have also tried to make this course affordable for all.
Nonstop Batches
We do have nonstop classes from morning till evening so it could be feasible for working professionals to choose a time as per their availability.
Course Completion Certificate
BSL gives a certificate to candidates who complete the course. It is something that you could present as a specialization in language.
Social Media Existence
We do have a social media presence which represents trust in the brand on social media platforms, As it helps to build a connection with the community.
Offline Centers In All Major Cities
We have offline centers in all major cities like Noida, Gurgaon, and Lucknow.
Premier Language Institution
BSL is one of the oldest and most renowned language institutes, Based in India which aims to be a one-stop destination for learning all languages.
Crash Course Available
Bsl does provide a crash course in the Korean language, which aims to provide enough knowledge in a short span of time.
Best Teaching Pedagogy
We have effective teaching pedagogy which aims at providing enough practice to enhance writing, reading, speaking, and listening skills in the Korean language.
Feel Free to Reach Management
We consider every student as family and try to make every possible effort to be in direct contact with them. Students are free to reach management anytime in case of any concern
Frequently Fresh Batches Are Formed
We keep forming new batches every 10 to 15 days, So that enrolled students may not wait for long, to begin with, the course.
Training for different ages
We target providing training to all age groups, It includes kids to teenagers homemakers to working professionals too.
Opportunity to work with us
Bill understands the need for language learning. Some learn out of passion while some learn for a better future. We understand and do offer them to work with us after course completion.
Pay and start
Once you are enrolled for a language course with BSL you don(t) have to wait for much to start, Maximum wait time is 48 hours.
National and International Coaches
Bsl provides classes from both National and International trainers, As international competencies can be developed by taking classes through these international coaches only.
Exposure to Learning with foreign students
We provide an opportunity to learn with international students, As it is an experience to learn in a different environment where you could exchange experiences and information and you would also come to know about different countries languages, history, and cultures.
classes for all 7 days
We provide classes on all 7 days a week, which means we have both weekend and weekday classes available for the students.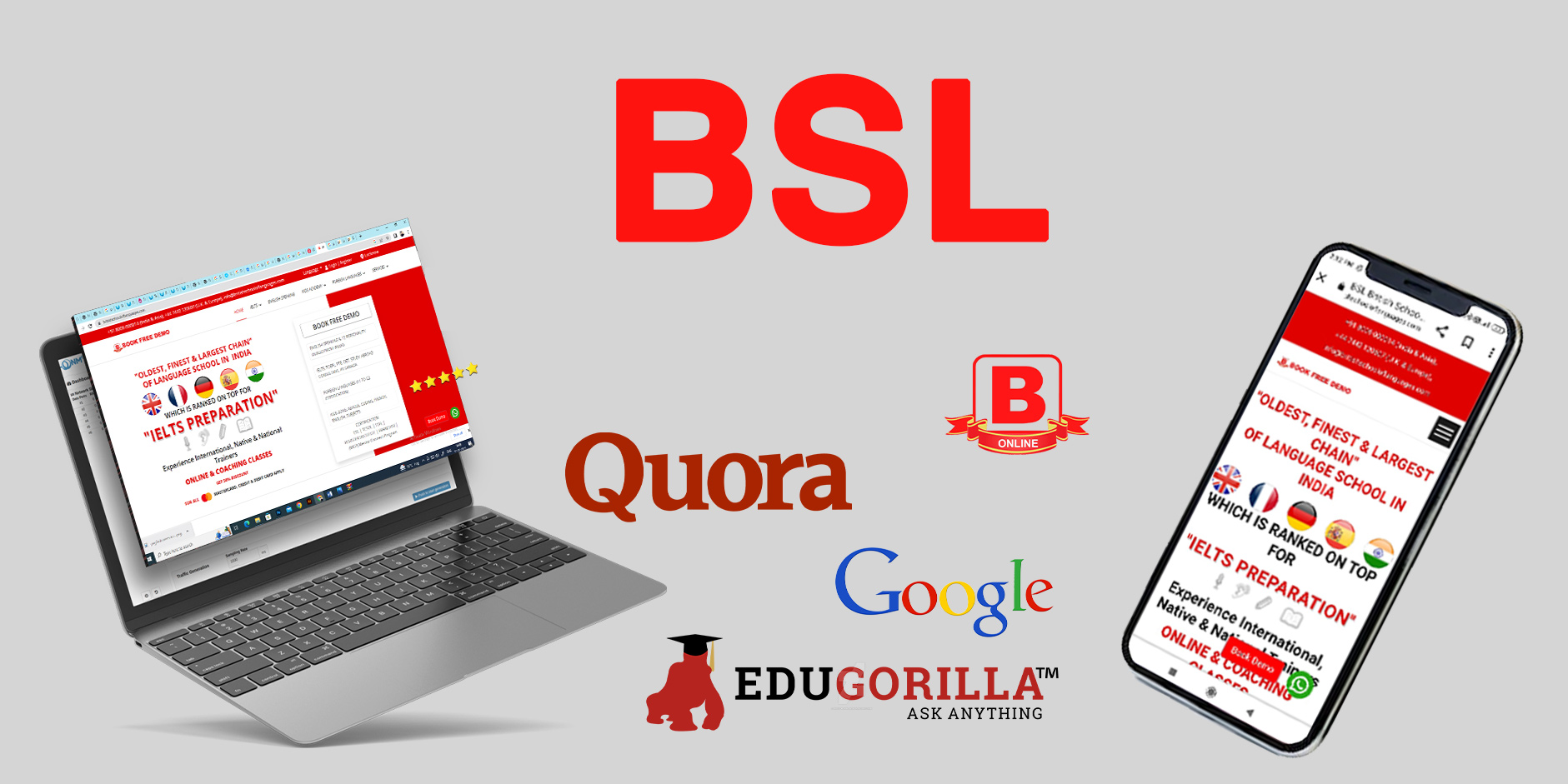 Most reviewed the website
BSL website is one of the most reviewed websites, As it contains detailed information about all the courses offered.
Big name in the field of languages
Bsl is a most trusted name not only in India but abroad as well in terms of learning foreign languages.
Get E certificate
We provide certificates to all our students with QR codes after the course is completed.
Application on Google and ios
You may easily download our application on google and ios to get more information.
Quality training
Our team works day and night to give the best knowledge to our students, Our motive is to provide quality training to get the best out of the students and enable them to become confident users of a language.
Change the tutor
A student at BSL has the full right to ask for a trainer change if things are not going in the way he expected them to be. As our primary objective is to provide world-class training without compromising the quality.
Provide Training for all 4 levels
We provide full structured courses for all four levels A1, A2, B1, and B2
Follows CEFR pattern
We at BSL follow CEFR (Common European Framework of references ) which is an international standard for judging language proficiency.
Trustworthy courses
We provide the most trustworthy courses online, As good online courses are interactive, informative, and full of knowledge. Our Courses provide information like readings, practice videos, and interactive sessions among the students in a batch.
provide training from the beginning level to the Advance level.
We offer training sessions from the beginning A1 level to the Advance c2 level. Our motive is to plan effective training sessions to meet the learning objective of an individual.
24*7 customer support
When it comes to customer support, We are near you and provide support 24 hours a day and 7 days a week. It ensures that a student can get their issue resolved easily.
Most trusted Korean course
When it comes to trust we also take full responsibility to restore the trust of our students. Our team leaves no stone unturned to provide training in the Korean language.
Extensive and intensive course
Best offers both extensive and intensive courses As required, Intensive courses are compact and can be completed in a short span of time. On the other hand, extensive courses take longer to complete.
Personal training option available
The personal trainer option is quite feasible for those who are working professionals and have a keen desire to learn a language just because of fixed batch timings they are not able to pursue a course but this individual training option would be a boon for them to fulfill the dream.
Small group size
We do have compact group batches of a maximum of 4 to 5 students so that classes may go smoothly and equal attention could be given to all.
Leading in online classes
We are the first to start online classes for learning the Korean language.
Researched course material
We have worked like a galley slave to provide the best study material, Our team researched for years to prepare the top class study material for our students.
Certified language coaches
We provide training from certified language experts, who have been training students for years and have a pragmatic approach while training and delivering the best of the knowledge they possess.
International presence
Bsl is passionate about training students and expanding their boundaries, Our team strives hard to educate students in all possible ways.
Centers across India
We have many centers across India(Noida, Gurgaon, Lucknow, Kanpur), and we cover most of the major cities and provide excellent infrastructure.
Most Clicked Website
The best website is one of the most liked and clicked websites, Viewed by thousands of people in a day.
Big team of trainers
We work with a big team of certified and experienced trainers whom we could easily count on to provide quality training.
Combo offers
We do offer many discounts and offers to our students and free doubt-solving sessions too.
Free Trial Session
Bsl provides free trainer demos to the students. By taking a demo session they could be more clear about our training pattern and technique we use to make the sessions interactive and informative.
Live interactive sessions
Our motive is to provide Live interactive sessions with the objective to provide the same experience that a student can have in classroom learning.
Access to the recorded session
We do share recorded sessions with our students so that they could be consistently in touch with the language and could revise what was taught in the class with these recorded sessions.
Government registration
We have met all the standards of government registration like GST registration, certification of incorporation, certificate of labor law, certificate of MSME, and Tan registration.
Online Assignments and mock tests
We conduct online assessments and mock test weekly to assess students performance at regular intervals and accordingly work on their weak areas.
Facility to interact with Korean natives
The best and most noted thing is that a student gets the facility to interact with Korean natives in the live session which could be very helpful and informative.
An international test to check Korean language proficiency is TOPIK. administered by the Korean government. It is conducted six times a year(Jan, Apr, May, Jul, Oct, Nov)
Its fee varies depending on the country where you decide to apply for it. TOPIK exams in India are conducted in Chennai, Delhi, Hyderabad, Jharkhand, and Manipur. Learning Korean Online via self-study is truly viable however there are limitations. If you are gaining knowledge of Korean simply for fun, YouTube training and Online Korean websites need to be extra than enough for you. But if you are planning to go to Korea for greater find out about or for work or even if you are planning to make a profession in Korean or Korea-related organization in India, it is now not effortless to attain that stage thru simply self-study. Below are the motives why - You do not have absolutely everyone to take a look at if you are talking or writing effectively in Korean. You can research the phrases and phrases on-line however if you choose to use them to make sentences, you are now not positive if they are right or not. You do not have cloth desirable to your stage to do listening practice. You can examine and write however you do not be aware of how to exercise speaking. You want there used to be an chance to speak with different freshmen in Korean and if any one used to be there to right you when you made mistakes. Beyond getting to know Korean, you desire anyone may want to information you about expert certification in Korean (TOPIK) as nicely as scholarships and work possibilities in Korea. You do not genuinely comprehend how to proceed if you choose to find out about or work in Korea. All these limitations can be clearly frustrating. We are attempting to existing a answer to all this via this Korean Language Course
BENEFITS OF LEARNING KOREAN IN INDIA
Nowadays it is extraordinarily famous to research a new language. This can be due to the fact of superior technology, an improved want for conversation in the international marketplace, or genuinely the pleasure of trying to study a new talent or hobby. Many human beings take languages for granted and do no longer suppose about how gaining knowledge of languages opens up a total new world crammed with opportunity. Do you dream of working in a overseas country? Maybe searching to trade careers or even begin your personal enterprise overseas? Korean language affords some of the first-class possibilities for an thrilling new career. If you are passionate about gaining knowledge of new languages, there is a incredible risk you will find out a complete new realm of studies, with much less opposition and total new plethora of possibilities to seem ahead to. To exhibit you simply how vital mastering a new language simply is and why you must get began today, right here is what we have created 5 motives why you need to research a new language

1) Growth in Career opportunities
2) Increase creative and cognitive ability of the brain
3) Connect to a population of 51.7 million people
4) Travel and tourism
5) Change in perspective and Worldview

WHAT ARE TOPIK LEVELS?
Topik levels measure the ability of Korean speaking, reading and writing. TOPIK test has reading, writing, and listening sections. Topik test has three different levels: Beginner, Intermediate and Advanced. Topik level is again divided into topik1, topik2, topik3, topik4, topik5 and topik6.
HOW CAN I REGISTER FOR THE TOPIK TEST?
In Korea: If you are in Korea, you can register for the test online on www.topik.go.kr. The registration fee is KRW 35,000 for TOPIK I (level 1-2) and KRW 40,000 for TOPIK II (level 3-6), which can be paid through debit/credit card, online banking or direct bank transfer. In Other Countries: In most countries, the Korean Embassies and Korean Culture Centres (한국문화원) administer the TOPIK tests. Some affiliate institutes also accept the applications. For registration, you have to visit the embassy or affiliate institution with 2 passport size photographs and the registration fee (which varies country to country).